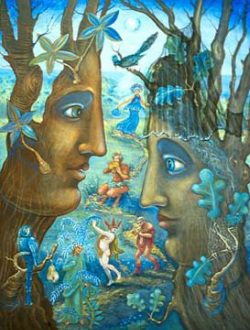 James McNeill Mesple Blue Moonlight
Relationships in Mythology and Mythology in Relationships
by
Mary Ellen O'Hare-Lavin, Ph.D. and Thomas Patrick Lavin, Ph.D.

I would say that this is the basic theme of all mythology that there is an invisible plane supporting the visible one. Joseph Campbell The Power of Myth p. 71

...[T]he tree symbolizes life. It is alive like a human being, with head, feet, etc., and it lives longer than man, so it is impressive, there is mana in a tree. . . Formerly was planted when a child was born, and as long as the tree lived the child lived . . . Trees through their fruits are nourishing, so they acquire a maternal quality. There is a Germanic legend that the ash and the elder were the first two human beings. . . . Jung 1984, pp. 360-361

---
Living the Symbolic Life
Within our therapeutic practices in a small village outside of Chicago, we find romance, or the lack of it, coming up frequently as a complex issue in sessions. More recently, we have had an increasing number of people come to us reporting extra-marital affairs. Others report wanting affairs and/or divorces. When frequency like this occurs, we often take a step back. We wonder what mythic field is being played out in our cultural unconscious. Knowing that therapists get the patients they deserve, we ask, "What draws these people to us? What do we need to address in our lives and marriage? What are our projections? Is something addressing us through our work? Why is this phenomena happening so often? What's the culture's myth?" Jungian analyst James Hillman (1975) succinctly calls this, "finding the myth in the mess."
While Jung (1925) and other psychology theorists (Johnson, 1983; Sanford, 1980) have given us important insights to ponder with regard to how folks relate, we have always found that the presence of a dynamic, archetypal image in a myth helps us understand a particular phenomenon better and longer. We often look for a myth that compliments the contemporary situation. So that we don't fall into the dangers of therapeutic myopia or become mono-mythic, as therapists we think it helps to tap into the many mythological parts of being human. The Oedipus attire doesn't necessarily wear evenly on all patients.
We find there are many myths that play out archetypal motifs in the lives of patients as the twists and turns of life patterns begins to unravel. Take for example a Sisyphus reincarnation in the presenting problem of a borderline patient. We can be jolted into the realization as we finish process notes that just as Narcissus was reincarnated in the narcissistic problems several hours before, Sisyphus can come alive in the borderline symptoms presented in a more recent session with another patient. Also, and unfortunately, not a few trainees in depth psychological institutes have awakened to the tragedy of realizing that they have been playing Persephone to a supervising analyst's Hades. The clinical experience of a dynamic and living mythology can and does help balance our work with patients. It can give an alternative context with which to ponder therapeutic problems. Being able to tap into symbolic amplifications through myths may well help keep our life and work rich, balanced, and full of meaning.
Myths can be road maps or directions for growth at any stage in personal and relational development. Several years ago, we found this to be played out in the Anita Hill/Clarence Thomas trial. We sat watching the trial unravel on television and wondered what the underlying archetype could be. It was like a soap opera. In fact, you may remember the trial even preempted the soap operas. Though not avid soap opera viewers ourselves, we have been told by those who are, that if you watch carefully, the soaps are often reenactments of archetypal entanglements similar to the Greek and Roman myths of antiquity. At the time of the Anita Hill/Clarence Thomas trial our question was, "What was the myth? What's the myth in the mess?" Then it dawned on us. It was the myth of Cassandra and Apollo. The story relates that Apollo promised Cassandra the gift of prophesy if she would go to bed with him. When she later rejected Apollo's romantic advances, he told her she could keep the gift of prophesy but that from then on no one would ever believe her. Isn't that the myth underneath the Anita Hill/Clarence Thomas trial? Today we have a sad and quiet Clarence Thomas, and an Anita Hill that few take seriously. It seems to be the Apollo/Cassandra myth reenacted on a contemporary stage.

Generational Mythology for Lovers
Myths and fairy tales contain imaginal contexts and decision models which pre-modern culture gave to our illiterate yet wise ancestors. From the time they were small children, our ancestors were flooded with wonder-filled and context-giving stories about falling in and out of love. The oral tradition of myth-telling from which we all spring was both powerful and persuasive.
At each stage of human development we have to deal with the metamorphosis of our images of soul. From love-initiation myths like Eros and Psyche to leave-taking/death myths like Baucis and Philemon, we are given signposts that point to the many possibilities in relationship. Young couples, middle couples, and elderly couples all need stories which give imaginal choices that are useful in leading them through important life-force decisions.
The wonderful Greek myth of Eros and Psyche can be a metaphor of what it is like to "fall" in love. Eros' arrows are tipped with a drug which when piercing the flesh can turn humans hopelessly in love. We are reminded of the wonderful and haunting song, "On the Street Where You Live." Even the street takes on a marvelous aura! Falling in love does literally change the flow of metabolic chemicals in the brain, and classical paintings in museums often depict Cupid in the corner of the canvas with his eyes blindfolded suggesting love is blind. Falling in love is a wonderful feeling. It's a heavenly feeling, but it can be torturously painful if the love is not reciprocated. Divine pastels can quickly change into demonic darkness.

Our Personal Images of Being In Love
What we have found as a senior couple who just happen to work as psychotherapists is that one of the most important consolations of becoming seventy is the realization that as the body diminishes in strength, the soul-images can take on a new sense of warmth, life, and wonder. As we approach the age of seventy, we have been trying to understand what myths have unconsciously guided our lives and which ones fit today. Easily, our youthful romantic life emulated and compared to the passionate love affair of Eros and Psyche. The vicissitudes of repeatedly being in love and falling out of love, filled our young lives. When struck by an arrow from Eros's quiver, we loved being in love! There was nothing like it and we thrived on it.
In our middle years, after marriage and having three children, life grew more serious and demanding. The explosive wonder of our identification with our Puer and Puella complexes (the eternal young couple) seemed to fade. We were forced to kiss Hermes and Aphrodite good-bye. Our Hermaphrodite life-style (or life-ideal) and the event of diapers were in a state of tragic conflict. Like good alchemists, we kept asking the question, "How can we turn this into gold?" Our romantic life then seemed to be guided by a chaotic admixture of the partnerships of Hera and Zeus and Demeter and Zeus. In that later stage of our development as a couple, we could recognize parts of the Hestian and late Dionysion myths that we unconsciously mirrored and sometimes consciously and gratefully avoided.
However, now that we are in our final years, and seven grandchildren later, we find that the myth of Baucis and Philemon is a major motivating archetypal image in our lives. We have always cherished the myth of Baucis and Philemon, but recently it has proven to be a powerful reminder for us of how we want to live out the remainder of our years together and how we want to be remembered.
Baucis and Philemon is the story of two elderly mortal folks who lived a full life and who were contemplating their end. They had little in the realm of material possessions, but their generosity to others was beyond measure. One day, to their surprise, two strangers came to their home and asked for shelter and food for the evening. Baucis and Philemon welcomed the two gentlemen into their humble home and went to great length and sacrifice to be sure the two were comfortable and well fed. The next morning the two gentlemen dropped their disguises and appeared radiant before the old couple as the gods Zeus and Hermes. In gratitude for their openness and hospitality, the two Divine beings offered Baucis and Philemon an opportunity to ask for anything they wanted. For when a couple is open and hospitable to the transforming presence of the divine in new human forms, many of their deepest wishes can come true.
Baucis and Philemon had few material needs, but they asked that they would grow even deeper in love with one another as long as they lived and that when they died, they might be transformed into an oak and a linden tree which would stand side by side for eternity above the Acropolis in Athens. Ovid tells us in his sixth book of the Metamorphosis that to this very day an oak and a linden tree can still be seen standing and leaning, to the point of touching one another, above the Acropolis. Perhaps, one of the secrets of being in a loving relationship is learning to gladly lean towards one another.
We have been married forty nine years and our three children are grown and on their own. They have blessed us with seven beautiful healthy grandchildren. We live and work in Wilmette, Illinois a lovely suburb just north of Chicago situated right on Lake Michigan. We are both still grateful and glad we are working as psychotherapists. We are both grateful for the time between 1968 and l978 when we studied and lived in the aura of the old masters of the Jung Institute in Zurich while the first disciples of Jung were still alive.
Today we both rely heavily on archetypal imagery and the use of mythology. The dreams, active imaginations, and creative writings brought to us in the therapeutic hour are often amplified by references to mythology. There seems to be a longing for mythological belonging in the air, to the point that some folks even use the telephone or Email or Skype to do dream work. These folks are longing for a larger mythological context into which they can fit their experiences of relationships.
While we are often invigorated by the work we do for and with patients, there are times when we are just plain exhausted by day's end. To relax after a hard day we are fortunate because we can leave our offices and meander down through a lovely park toward Lake Michigan. Once down at the beach, there's a bench we regularly sit on, and situated between that bench and the lake are two adjacent trees. These trees are close enough to each other for their limbs to cross, touch, and intermingle. These trees are not a linden nor an oak. They are simply birch trees, and over the years we have ritualistically sat on that same bench and watched these two trees bud in the spring; we've enjoyed watching their leaves swaying with the breezes in the summer; we've watched their colors change in the autumn; and we've shivered with their nakedness in the winter. We've repeated our watch for many years and we have come to call our two beloved birch trees, Baucis and Philemon.
Our visits to this location have become a welcome retreat helping us balance our lives. Most times we walk to the beach hand-in-hand laughing and enjoying one another's company being grateful for the years we have shared together. However, if we are authentic, we must admit there have been times when we have walked down separately driven by anger or disappointment and on the verge of rage and desperation with one another. "These times alone are the times of individuation and the process is one of isolation" (Jacobi, p. 87). Individuation is never a joint process; never a partnership. In the end, one suffers the fire alone. There have been times when we as individuals have confided the most intimate details of our lives to those two trees. The nice part is that the trees keep our secrets. They are our best marital and individual therapists because the trees are grounded in the earth and not in anyone's theories, dogmas, or diagnostic categories. They, like any good therapists, are a grounded presence that points the way to becoming.
The following is taken from Favorite Greek Myths retold by Mary Pope Osborne. It's the full story.

The Story of Baucis and Philemon
Long ago, two old mortals named Baucis and Philemon had just finished their midday meal when they heard someone knocking on the door. They happily rushed to the front of their tiny thatched cottage, for as much as they loved each other, they loved having visitors. When they threw open the door, there, standing before them, were two tall strangers. One was a very strong-looking bearded man, the other was an impish-looking young man.
"We've traveled from far away," said the bearded man in a beautiful deep voice. "Is it possible we might rest a while in your home?"
"Come in, come in!" said Baucis, and she held the door as the two visitors ducked their heads and entered the tiny cottage.
Philemon rushed to the fire and raked the coals. He added leaves and bark and blew hard to make a cheerful blaze. Baucis put a copper kettle over the flames, then scurried around the kitchen to make some soup.
While they worked, the old couple chatted happily with their visitors, for they wanted them to feel at home.
As Baucis prepared the table, Philemon bathed the feet of the visitors and dried them with towels. Then Baucis served many earthenware dishes filled with cabbage and bacon, black olives, cherries soaked in wine, garden salad with endive and radishes, milk-while honeycomb, nuts, figs, dates, plums, grapes fresh from the vine, and delicious red apples.
After Philemon poured wine into beech goblets, he stood by the table and wrung his old gnarled hands. "Please forgive us, gentlemen," he said, "for giving you so little." Then before the visitors could protest, Baucis told Philemon to offer their visitors their only goose!
Tears filled Philemon's eyes, for he and Baucis had a strong affection for their old goose. They thought of the goose as being somewhat the guardian of their estate. But the old man nodded and agreed good-naturedly. Then he hurried outside to catch the old gander.
The two visitors stood at the cottage door and watched the old couple exhaust themselves as they dashed about their dirt yard, trying to catch the skinny goose.
Just as the goose sought refuge behind the visitors, the bearded man held up his hand and said, "Stop! Don't kill your only goose!"
When Baucis and Philemon returned to the cottage, the younger stranger said, "We are not mortals. We are gods come down from Mount Olympus. I am Hermes, and this is my father, Zeus."
Baucis and Philemon let out cries of disbelief. They were astounded that Zeus, greatest of all the gods on Mount Olympus, was in their cottage! And Hermes, his son, the messenger god who could fly through the air! Suddenly the mysterious visitors were bathed in a shimmering light, and they seemed to grow larger than life. Awestruck and frightened, Baucis and Philemon backed against their wall.
Zeus urged them not to be afraid, but to leave their house immediately and come with him and Hermes to Mount Olympus,.
"But why?" stammered Philemon.
"Your wicked countrymen will soon be destroyed. Hermes and I came to earth to test the warmth and hospitality of mortals We visited hundreds of homes, but no one was friendly to us - except the two of you."
Baucis and Philemon quickly gathered a small bundle and their things. Then they leaned on their walking sticks as they followed Zeus and Hermes up a steep hill.
When the four reached the top of the hill, they looked back and saw water covering the land below. Baucis and Philemon wept for their neighbors. But suddenly they gasped when they saw their cottage floating on top of the water. Before everyone's eyes, the cottage changed into a gleaming temple: Its wooden pillars became shining marble columns. The straw thatch became gold; the doors, wondrously carved gates; and the rough wooden floors, white marble.
Then Zeus told Baucis and Philemon to make a wish, for he wanted to replay them for the kindness and generosity.
They thought for while, then said, "We would like to be keepers of your temple that was once our cottage. And we would like to die together someday, so that one of us is not left behind without the other."
"Your wish shall be granted," said Zeus.
So Baucis and Philemon became the keepers of Zeus's temple, and they lived many more happy years together. Then one day, each began to see changes in the other: Tree bark began growing on their shoulders; their arms began sprouting forth bright green leaves; their feet changed into new roots Baucis was slowly turning into a linden tree and Philemon, to an oak. Their foliage spread daily until finally one evening, they whispered to one another, "Farewell, my dear!" "Farewell!" And then the bark closed over their mouths.

After Baucis and Philemon turned into trees, their countrymen on earth often showed strangers the great oak and linden that grew from only one trunk; and they always recited a line when they hung wreaths on the two trees:

Those who care for the gods may
someday become gods
themselves.

As our matter gets older and our spirits get younger, and as our athletic abilities decrease and we hope our spiritual abilities increase, the myth of Baucis and Philemon plays a pivotal role in our married life. It gives us the basis or context for how we hope to live out the remainder of our lives. Besides the consolation that the myth has given us as an archetypal, mythological, invisible plane that can underpin our marriage, it has also reminded us of how we want to relate to those who come into our home and our offices. Like the myth, we have tried to remember to have a welcoming, non-judgmental acceptance of the Divine in all who come "disguised as strangers." Our experience and hope is to welcome the Divine in its many, varied, and highly ambivalent human forms.
We often recommend to our friends and our patients that they locate myths, fairy tales, and stories that might illuminate and mirror how they are living out the archetypal and meaning-giving parts of their lives. Somewhere, at some time in history, the same experience may have been lived out and it was probably captured in a myth. Knowing this may not necessarily make living life's experiences any easier, but it can fill one with a hopeful context and a knowledge that we are not alone and that we can survive life's vicissitudes just as our ancestors did. After all, that's what an archetype is - it's a pattern and possibility of very human behavior. That's why our therapeutic ancestors sat around their fires telling their great stories, their cultural, personal, and relational myths. They shared the wisdom of the past to help one another get through the present. When all is said and done, and all the therapy theories, dogmas, and caveats are expounded, isn't myth-sharing in an inclusive atmosphere of warmth and light at the very roaring hearth/heart of all relationships?

References
Campbell, J. (1988). The power of myth (with Bill Moyers) New York: Doubleday.
Jacobi, J. (1965). The way of individuation. Hodder and Stoughton: London.
Johnson, R. A. (1983). We: Understanding the psychology of romantic love. San Francisco: Harper.
Jung, C. G. (1925). "The Development of Personality. " Collected Works, Vol. 17. London: Routledge & Kegan Paul.
Jung, C. G. (1984). Dream analysis: Notes of the seminar given in 1929-1930. McQuire, ed. Princeton, NJ: Princeton University Press.
Hillman, J. (1975). Re-visioning psychology. New York: Harper & Row Publishers.
Osborne, M. P. (1989). Favorite Greek myths. New York: Scholastic Incorporated.
Sanford, J. A. (1980). Invisible partners: How the male and female ineach of us affects our relationships. New York: Paulist Press.


---